Social media influencer Alana Panday married the love of her life, Ivor McCrae, on March 16 in Mumbai. Alana is the daughter of Chikki (Chunky Pandey's brother) and Dean Pandey. The wedding festivities went on for two days and fans got a glimpse of the couple's mehendi, haldi and sangeet ceremonies. After the wedding, Chikki and Deanne Panday hosted a reception, which was attended by several Bollywood celebrities including Alana's cousins ​​Ananya Panday and Ahaan Panday.
ETimes spoke to wedding designer Ambika Gupta, who spoke about her experience of planning and designing Alana's wedding, working with the bride and groom, the pressure of designing a celebrity wedding and much more. Some parts…
What was the first thought that crossed your mind when Alana and Ivor approached you for your wedding?
It was clear from the beginning that Alana and Ivor and their respective families didn't want us to treat the wedding as a celebrity event. It was a personal journey of a lifetime for two very special and unique individuals. The wedding was their story to tell which has now merged into one and my first thought was that I had to create a series of intimate, joyous and elegant experiences for the couple, their families and guests. From a questionnaire that Alana and Ivor filled out for us, I got a clear idea of ​​their aesthetic sense, their love for travel and nature, their favorite colors and their dream of a cosy, warm yet insanely beautiful wedding.
How was your overall experience of being a part of the wedding?
It was a pleasure working with Alana and Ivor. He had a very clear vision of what he wanted and didn't and I was particularly impressed with his knowledge of design and color. Alana was a very meticulous bride who had great creative insight into every aspect of the wedding, be it the dishes, the backdrops, the floral accents, or the textures and colors. It's always very satisfying to work with a couple that knows what they want and gives and takes creative ideas.
How were Alana and Ivor as a couple?
They're fun, and they have different backgrounds and personalities, but they're very similar in the way they look at life. They are very devoted to their families and each other. They have a very unique design sense and shared a very unified vision of how they wanted their wedding to look and feel.
They are quite unique and different when it comes to their personality, fashion choices and lifestyle. How did you incorporate all these things while designing the wedding?
As I said, their overall vision of marriage was rather harmonious, regardless of personal preferences. They share a great passion for travel, and for serene and lush green destinations. They wanted a wedding that reflected this as well as the close relationship they had with their families. So the spirit of sharing, conversational energy and positivity were of the utmost importance to them, in addition to the fact that they wanted a wedding full of beautiful details. We also came to know about his color sensitivity from his Instagram profile. For his 'turmeric', we created a quirky and colorful farmers market, guided by his love for Italy and because he has an enduring love for all things organic, earthy, and also a modern/minimal aesthetic. For their wedding ceremony, we created an enchanting forest theme with an ambiance rooted in nature and a scent that reminded guests of their close connection with Mother Earth.
How receptive were Alana and Ivor to your ideas? Did he give you any input?
The couple is very comfortable listening to ideas and was constantly giving us their inputs and feedback. They were actively involved in the planning process and were overjoyed with the way the wedding turned out like a dream.
Were their families involved in decision making?
Alana and Ivor are very family oriented and every decision regarding design, food, seating etc was taken to ensure the ease and comfort of their loved ones. The families also gave us valuable information about the couple and their dreams and hopes for the wedding.
More and more people are opting for permanent marriages. What are your thoughts on this?
Yes, post the pandemic, people have become a bit more sensitive to using eco-friendly materials and I personally feel, sustainable weddings are a great way to reduce carbon footprint and create a positive impact on the environment. I encourage clients to incorporate sustainable elements into their weddings wherever possible and we are working with NGOs to redistribute excess food and recycle flowers. We also love handcrafted gifts from local artisans.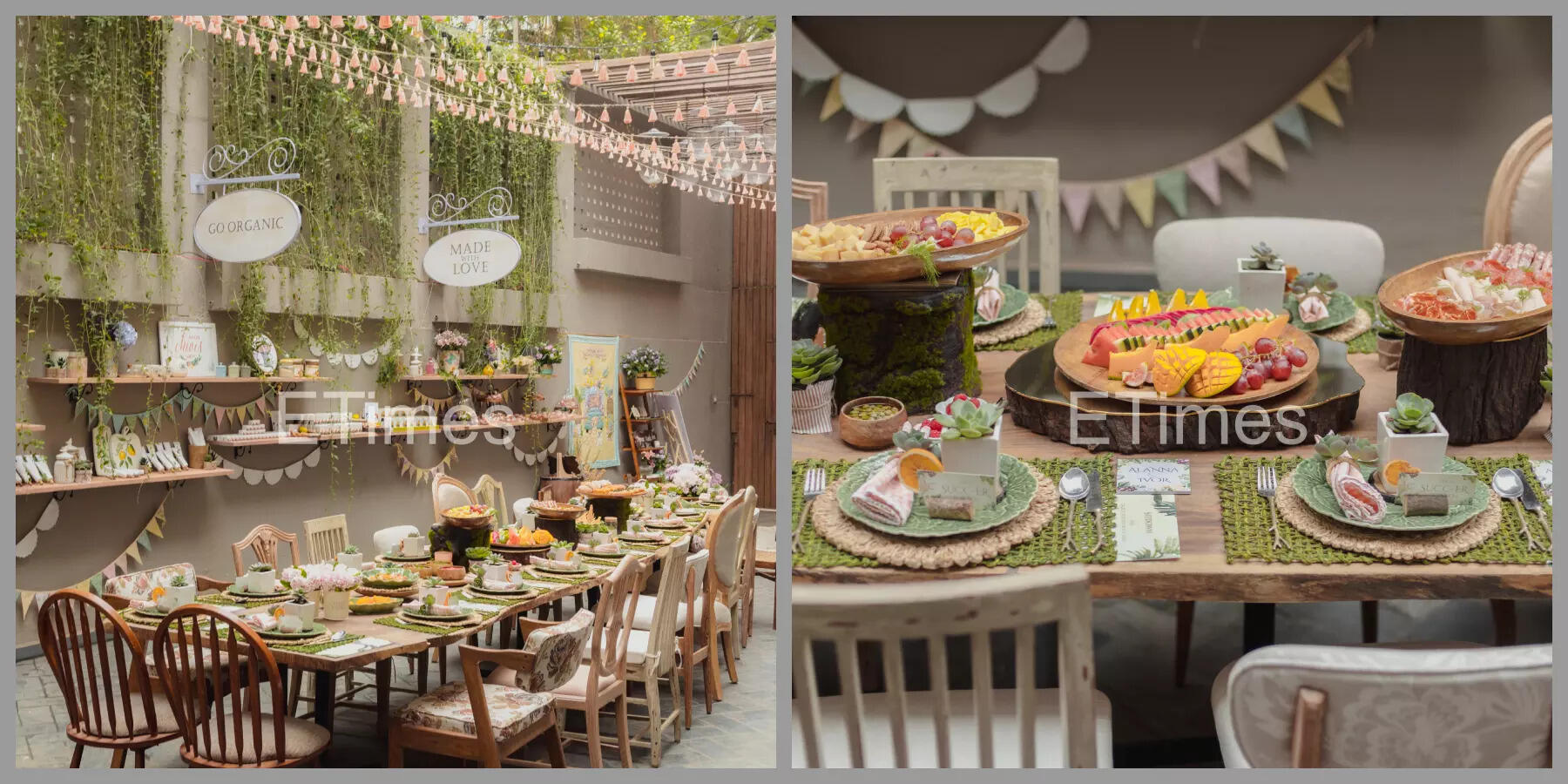 Alana and Ivor also gave permanent gifts to their guests. What was the thought or idea behind it?
Alana is very socially responsible. She wants to give back to the society in any way she can and distributes thoughtful gifts to street children in her neighbourhood. We recycled flowers from NGOs to make potpourri and recyclable gift bags. We also made sure everything from the pre-wedding hamper to the wedding favors was sustainable. It was also cheap, practical and could be used in daily life. We incorporated elements of the Haldi ceremony decorations created by the women-led Quilters Collective, a social enterprise based in the foothills of the Himalayas.
Were Alana and Ivor happy with all the preparations for their wedding? Did he share his reaction with you?
They were thrilled beyond words that we went to such great detail to bring all their dreams to life.
Where on the one hand, we have big fat Indian weddings and on the other, we have modern-yet-difficult weddings – which one is more difficult to pull off and why?
Well, both types of marriages have their own challenges. However, modern-yet-sustainable weddings require more effort and attention to detail as they involve incorporating eco-friendly elements while ensuring a certain level of elegance, sophistication and opulence. It's hard to marry completely zero waste and carbon-neutral, but we're getting there with elements that can be recycled, have a low carbon footprint, are biodegradable, don't end up in landfills and generate less waste Are.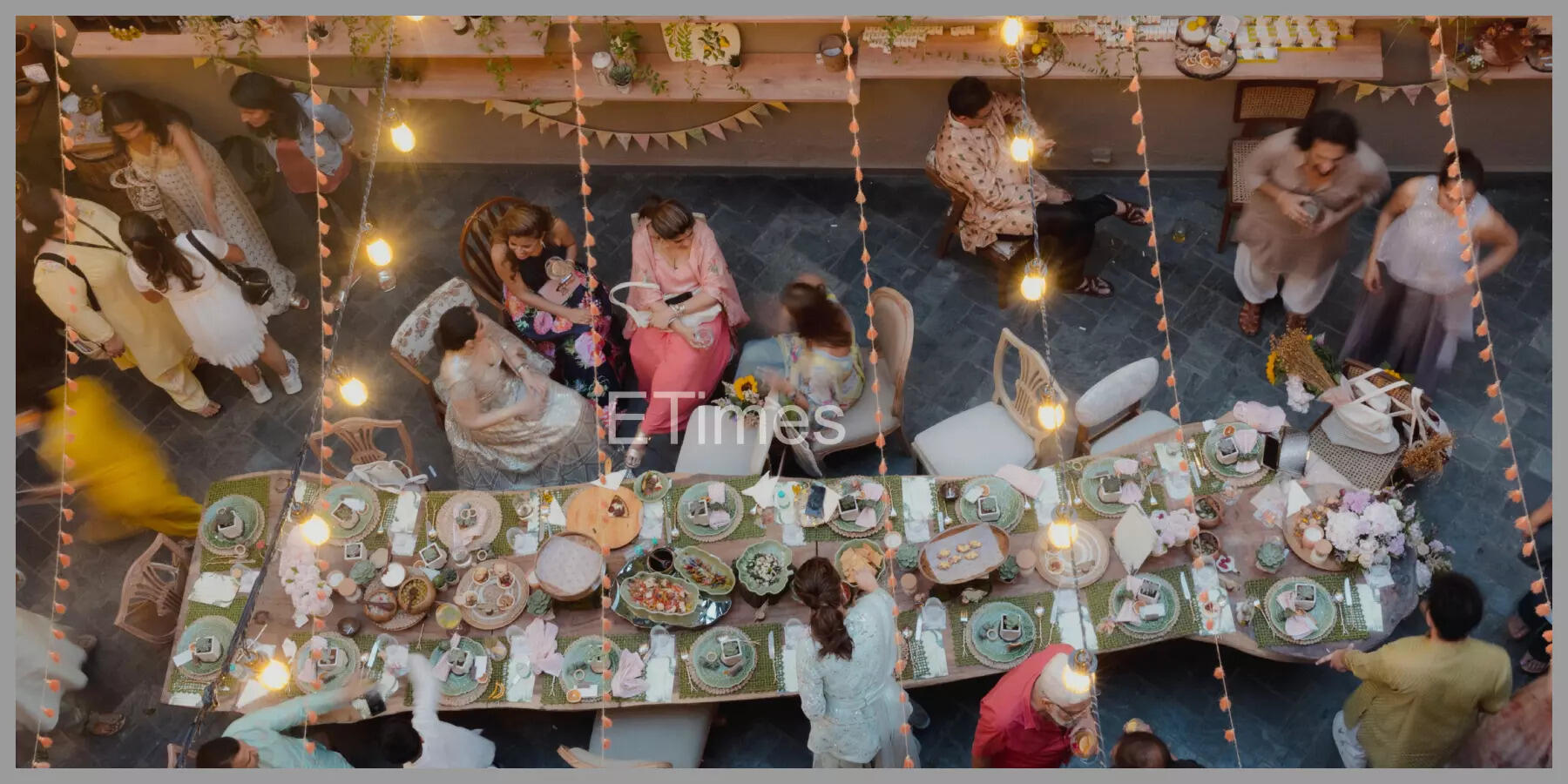 Photo credit: House of Clouds
Do you think there is pressure in planning a celebrity wedding?
Planning a celebrity wedding certainly comes with its own set of pressures as expectations are higher and the scrutiny more intense. However, I enjoy working with celebrities because their briefs inspire me to push my creative boundaries and create unique and unforgettable experiences. For example, for Kajal Aggarwal's wedding, we recreated the floating flower markets of Kashmir because her husband has Kashmiri roots. For Alana's turmeric ceremony, we outfitted an Italian farmer's market and a huge grazing table for family and friends to gather around. Yes, it is important to maintain privacy in such weddings as well as ensure that everything is picture perfect.
Of the celebrity weddings you've designed and produced, which one has been closest to your heart? Why?
All weddings, whether with celebrity clients or others, are very close to my heart, but some moments and design elements stand out more than others. One of my favorite pre-wedding events was inspired by impressionist art and yet took a lot of elements from Frida Kahlo's paintings and her vibrant color palette. Every wedding brings with it an indelible experience and it doesn't matter if the client is famous or not. Everyone we work with is equally important and valuable.
The pandemic affected the wedding industry to some extent. But things seem to be back to normal. Your thoughts…
Yes, the pandemic has had a significant impact on the wedding industry and has caused a lot of uncertainty and disruption. However, I am glad to see that things are starting to get back to normal. However, people are starting to opt for more intimate and personal wedding experiences and I think that is a positive trend.
,