It is never easy to forget your loved ones. In fact, it is impossible. It is a silly saying that time is a healer.
Last night we spoke to Nishant, nephew of Satish Kaushik, who lit the pyre. Satish Kaushik passed away suddenly on March 9 in Delhi. Below is the conversation that took place:
I am sorry and I understand that this is an irreparable loss for Satish ji's wife Shashi and daughter Vanshika…
They are trying to compromise but no… their condition is bad. Shashi aunty falls silent and the flash of memories comes back. Vanshika may not say this in front of the guests but as soon as she goes to a corner, she starts feeling uncomfortable. His family's life has been thrown into disarray.
Were you very close to Satish ji?
Yes, and I lit the pyre. In fact, I am one of the producers in Satish Kaushik Entertainment. I used to work with Satish ji.
Satish ji has any unfulfilled wish?
Well, he wanted to take his production house to a higher level; He wanted it to be a big studio.
Have their ashes been immersed?
Yes, we immersed him in Haridwar. His nephews did the immersion.
We still haven't recovered from his demise. Just a few hours before his death, he was dancing in a Holi party wearing a white kurta-pajama.
That was Satish ji. He was always like this, full of life. Even if he sat down in a corner to rest, he would soon get up and do something or the other. He could never sit idle. Right now he was very busy editing 'Kaagaz 2'.
So who will be looking after 'Kaagaz 2' in post-production?
I'll look into it.
Will you take help from Satishji's friends Anupam Kher and Boney Kapoor?
They are both family to us. Yes, why would I not approach them if the need arises?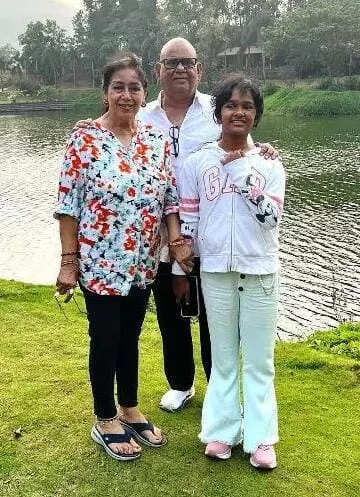 How would you describe him as a father?
terrific. He would play so many games with Vanshika.
Otherwise what about his health? He had asthma, didn't he?
Yes, but asthma was not that much. But his weight used to become a problem but only on a few occasions.
,