Alana Panday and Ivor McCrae's wedding festivities began on a fun note with a pre-wedding bridal party and their mehendi ceremony is being held today.
Alana Pandey, a digital content creator and model based out of Los Angeles, is the daughter of fitness expert and author Dean Pandey and Chikki Pandey. She is also the cousin of Ananya Pandey. She met her boyfriend Ivor three years ago while working as a model where he was a photographer. The couple soon clicked and now they travel the world creating content together.
Ahead of her big day, ETimes reached out to Alana to get some insider details about her wedding festivities. Excerpts:
How did your parents react to your decision to get married?
My parents actually knew about our wedding plans 8 months before we got engaged, so it wasn't really a surprise to them. Ivor has come to India and asked my parents for permission to propose me and my mom actually helped him with planning the entire engagement, like setting up the hotel, our outfits etc.
What was the idea behind the 'White Whisper' wedding theme?
We chose a magical, fairy tale-like, enchanted forest theme because we both love nature. We love everything grounded and rooted, so the wedding will be inspired by a forest theme that will reflect the resilience of nature. The decor will include birds in flight, a soothing water element, forest sounds, and a customized scent to evoke the scent of the earth.
Are you going for a minimalistic / eco-friendly celebration?
We want to give something back to the society, so apart from it being aesthetically pleasing, we are working with vendors who are either associated with an NGO etc. And for our wedding hampers, we chose every product that was sustainable. We have tried our best to incorporate this, for example, we are also going to take the flowers that will be used in our ceremonies and turn them into potpourri to gift to our guests.
How have you adapted your wedding dresses taking inspiration from your love story?
Our dresses are customized based on the theme for each ceremony, eg Haldi is based on an Italian market, Mehendi is a tropical oasis, Wedding is a magical forest. For the mehendi, Ivor and I wore Rahul Mishra. We are going to wear Payal Singhal for the Haldi ceremony. The wedding ceremony is going to be Manish Malhotra and the wedding reception will be Falguni and Shane Peacock.
Are there any family heirlooms being included?
Yes, I am going to wear one of my grandmother's bangles that she left behind for an event.
How would you incorporate Ivorian customs into a wedding?
We are keeping this wedding as per all Indian customs, but we are planning a white wedding soon to complete the rituals for Ivor.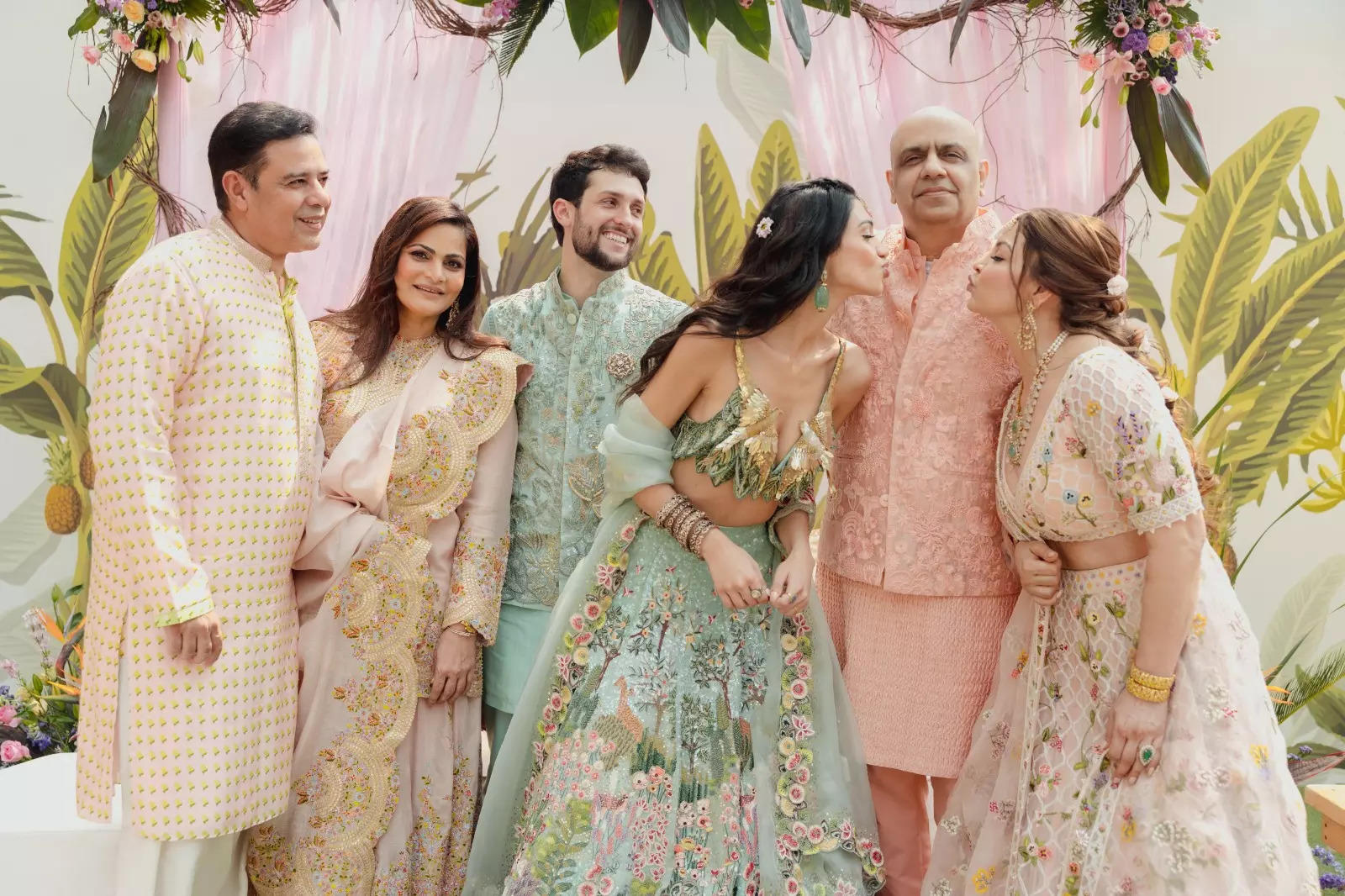 How have you incorporated your love story into this wedding?
Ivor and I love to travel, and thus we themed each ceremony around a place we love, so our haldi is themed around an Italian farmer's market, the mehandi is a tropical rainforest theme, and the wedding itself. There is a forest theme as we both love nature a lot. Weddings and celebrations represent our sensibilities not only in fashion but also through decorations and gift-giving.
What are the plans after marriage?
We haven't got a second to catch our breath since we arrived in India, our wedding preparations have kept us on our feet, so post the wedding we will surely be looking forward to a relaxing, rejuvenating honeymoon .
,